Immediate Results for Sinkhole and Void Remediation
A prime general contractor called Concrete GPR with concerns of a sinkhole and voiding under the concrete slab of an occupied and active hospital. Five days later we delivered preliminary findings:
Thursday: Site walk with GC superintendent and project engineer, owner's reps, geological and structural engineers. Layout and setup for collection of high-resolution 3D GPR data.
Friday: Continue 3D GPR data collection in multiple frequencies to evaluate underground voids and sinkholes as well as near surface decoupling of concrete slab from the compacted grade.
Saturday: Complete data collection with additional 3D grids on floor and walls of elevator pit. Begin post-processing and evaluation of 3D GPR data grids.
Sunday: Continue post-processing of 3D GPR data grids, assemble preliminary report of findings from 0′ to 15′ deep, and submit report for internal peer review.
Monday: Revise preliminary report and deliver findings 7:30am.
Tuesday: Evaluate 3D data sets for conduit and utility locations to enable safe drilling and void injection by Uretek.
Wednesday: Collect, post-process, and evaluate new 3D GPR data sets over previous areas to compare underground conditions before and after void injection.
Scope: Evaluate Underground Voiding
With 3D ground penetrating radar, determine the extent of underground voids and sinkholes beneath a concrete slab in an occupied and active hospital.
Methodology: 3D GPR Mapping
Establish a 51′ x 50′ Cartesian grid enclosing the area of concern.  Grid size is designed to encompass voided zones as well as well compacted areas to use as control data.  All available surface area within this grid perimeter is covered with multiple sets of high resolution 3D GPR data: high frequency data is used to determine near-surface voiding and decoupling; low frequency data is used to evaluate underground voiding and sinkholes up to 15′ deep.
Execution: GPR Data Collection and Interpretation
Initial collection of both 3D data sets, low and high frequency, required 2.5 days on site.  In this time, our expert crew collected over 600 discrete data files, and documented everything with detailed field notes.  High frequency antennas are small and had no difficulty navigating the tight quarters.  Low frequency antennas are larger, and this created access issues to collect sufficient data in cramped office spaces.  To overcome this challenge, we used time-based data collection in areas with limited access.  After distance normalization, the time-based GPR data files were combined with the other data files to create the final 3D models.  These 3D GPR models were analyzed for amplitude variance after processing with bandpass filters, deconvolution, and migration.
Post-Injection Comparison
The first rounds of injecting expansive resin to remediate the voiding and stabilize the building occurred immediately after we completed our data collection.  After allowing a few days for the resin to cure, we returned to the hospital and reproduced our data collection.  With comprehensive 3D data sets before and after the resin injection, we produced detailed comparisons of the change in underground conditions.  These findings were delivered in depth slice images at 1′ intervals as seen in the image below.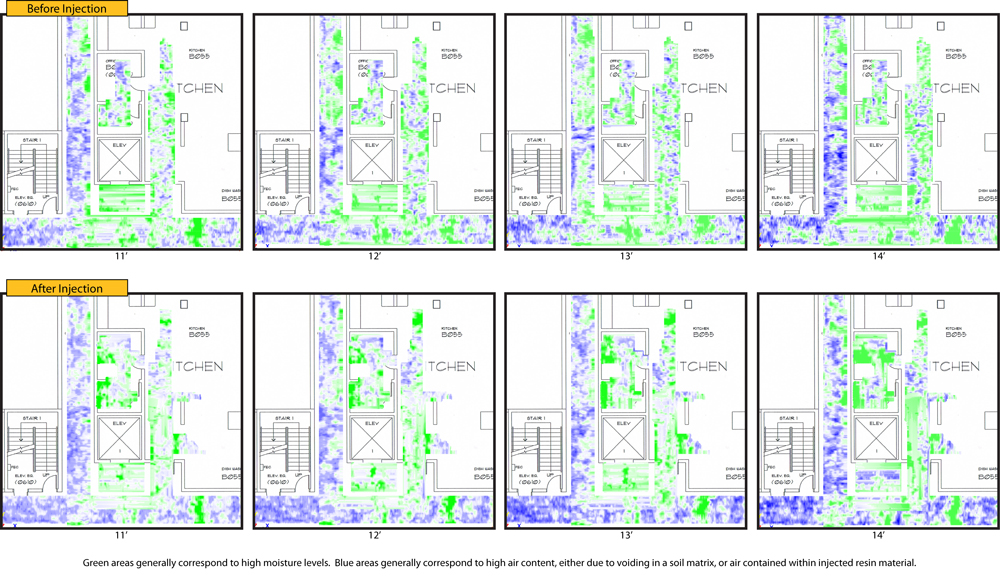 Partners
Concrete GPR is proud to participate with an incredible team to remediate these underground voids and sinkholes before the hospital suffered irreparable damage.