Concrete Imaging
Concrete GPR LLC provides a full range of ground penetrating radar (GPR) concrete scanning and imaging services with unparalleled expertise.  We can mark your work area directly and provide you with immediate realtime findings, to keep your other trades moving forward.  We can also reproduce your work area in a three-dimensional GPR data grid, creating a comprehensive report of findings for you to integrate into your project planning and CADD / BIM / FIM designs.  This type of as-built reproduction with GPR can be invaluable for cost efficient design, maintaining the integrity of historic or sensitive buildings, and execution of high risk work in extremely complex scenarios.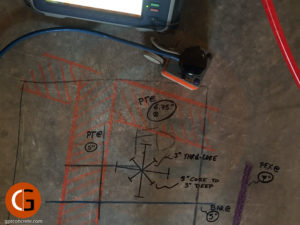 Post-Tensioned Cables
Our staff is highly experienced with post tension (PT) cables in a wide variety of construction techniques.  We can read your PT shop drawings and understand the design and implementation.  We understand the difference between banded, bundled, and uniform layouts, and we have a deep familiarity with how these different layouts are imaged in ground penetrating radar data.
Rebar Mapping
We provide thorough and efficient rebar mapping services for engineers and architects to help with structural evaluations and design/build services. Our findings are reported back in a concise and intuitive report for your permanent record. Please contact us if you would like to review a sample report.
Prestressed Cables
Precast prestressed concrete panels are a common part of many building designs, and we are very familiar with them. We understand their typical design formats with hollow core construction, and we know how to help you work with them.
Voiding and Delamination
Ground penetrating radar is ideal for mapping voids, sinkholes, and delamination under concrete slabs and structions.  The GPR signals react to air and water with significant amplitude changes, allowing us to create highly detailed 3D maps of underground voiding to assist with evaluation and remediation.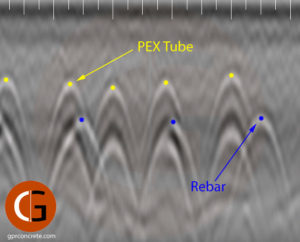 Concrete X Ray
X-Ray has been a popular method for imaging concrete slabs before drilling, cutting, and coring, but concrete radar with GPR is better in every way.  In fact, most architectural and engineering specifications which require "x-ray" don't really mean x-ray — they're using the term in the same way people ask for a "band-aid" or "kleenex."  Within the modern construction industry, the term "x-ray" simply refers to non-destructive scanning and imaging to allow safe destructive work.  You can (and should) substitute ground penetrating radar due to better cost, safety, and access.  Concrete radar emits no harmful radiation, so your site stays open, and we work safely and smoothly alongside your occupants and subcontractors.  Compared with x-ray imaging, our state of the art GPR creates images with better clarity and provides accurate depth information.  Instead of the flat two dimensional plan view from x-ray, with GPR we can create a 3D image and look at everything as we move down through the depth.
Concrete Imaging Services Include:
Scan & locate post tension (PT) cables / tendons

Identify pt location, size, and depth
Banded pt
Bundled pt
Uniform / distributed pt
Temperature tendon

Pre-stressed cables

Precast structures
Hollow core panels

Rebar

Layout
Depth
Diameter
Corrosion / quality assessment
Conduits and piping

Rigid / metal / conductive piping

Electrical conduit
Water pipe
Copper heat tubing

Non-conductive piping

PVC conduits
PEX heat tubing

Concrete characteristics

Slab thickness
Poor consolidation
Voiding, decoupling, settling of compacted grade
Consistently delivering accurate findings and exceptional customer service.
Concrete scanning with ground penetrating radar includes a wide range of projects from the relatively simple to the extremely complex. Concrete GPR LLC is your best resource for all of them. We have the skills to get your project done quickly and efficiently, no matter which end of the complexity scale it falls on, and we do it all with extremely competitive pricing.