The Fair-Haired Dumbbell – Weirdly Portland
The Fair-Haired Dumbbell is a purely Portland project at Burnside & MLK.  With partial investment from crown-funded sources, a canted profile, and unique hand-painted exterior, this building has been the focus of nationwide attention throughout its design and development.  Concrete GPR has enjoyed the opportunity to work with several different subcontractors on this exciting wood-over-PT mixed-use project.
Plumbing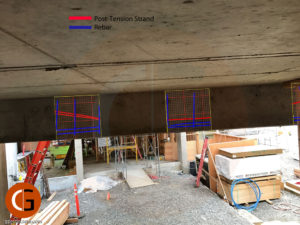 3D Mapping PT in a Beam
Our cornerstone scope for this project was to accurately map the post tensioned strands in a thickened exterior beam, allowing an 8″ core (plus several 2″ holes) to be drilled horizontally through the beam.  To accomplish this, we collected high resolution 3D GPR grids on multiple faces of the beam, accurately locating the PT strands in plan and elevation.  After review by the general contractor and structural engineer, all holes were drilled successfully.
Floor Slab Cores at Column Capital
Another challenging part of this project was to safely position large core holes (8″ and 3″) through the post-tensioned slab.  Normally this is an easy process, but in this case, the general location was through a reinforced column head, and adjacent to a stairwell shaft.  In addition to the banded PT strands and heavy rebar reinforcement, this area of the slab also contains smurf tubing for utilities.  Despite all of the hazards and conflicts, our team quickly identified the risks and provided safe locations for the cores.  All holes were drilled safely and free of conflict.
Ceiling Anchor Embeds
Shallow embedment ceiling anchor locations were quickly scanned and approved if safe, or relocated if conflicting with structural hazards.  These anchors mitigated lost/kicked bangers and changes to architecture after the pour.  All anchors were drilled safely.
Glass
Locating Post Tension Strands in a Beam
With the accelerated timetables of modern projects like the Fair-Haired Dumbbell, sometimes the concrete pour gets ahead of the final materials design.  In this case, the post-tensioned exterior beams were already cast before the design of the window frames was locked in.  As a result, installation of the window frames required drilling nearly one hundred anchors several inches into the bottom of the post-tensioned beams.  The bottom face of the beam is relatively narrow, which makes GPR scanning difficult unless you have the best equipment.  Additionally, many locations had very limited access, requiring a combination of baker scaffold, scissor lift, folding ladder, and extension ladder.  Despite the obstacles, our experienced team made quick work of the project and all holes were drilled safely.
Electric
Floor Slab Cores
Compared with everything else, these holes were a breeze.  Although located in a framed chase with limited access to scan (the holes needed to be inside the wall line), the slab was relatively free of conflict.  A few conduits and a uniform PT bundle weaving between existing sleeves were easy to avoid.  Safe locations for all holes were quickly identified, and cores were safely drilled free of conflict.
Further Reading