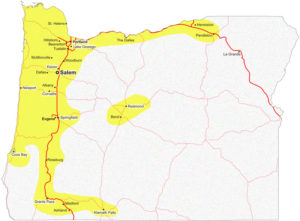 Concrete GPR LLC provides expert ground penetrating radar services in Portland, Oregon, and Washington to scan concrete to locate rebar, post tension (PT) cables, and PEX; underground radar to locate utilities and create utility maps. Our local service area covers:
Portland Metro Area, including Hillsboro (Intel), Beaverton, Gresham, and Vancouver
I-5 from Medford to Kelso, including Roseburg, Eugene, Corvallis, and Salem
Bend, Redmond, Prineville and Central Oregon
the Oregon coast from Coos Bay to Astoria
the Columbia Gorge and I-84 from Portland to Hermiston, Umatilla, Boardman, and Kennewick
Next Day Service
Schedule a Job
Call: 541-801-1477
Email: info@gprconcrete.com
Within Portland, Oregon, and Washington we can often be on-site and working the day after you call.  Lock in your service date by scheduling your work with our online calendar, or call us at 541-801-1477 to discuss your project and get a quote.
Take a look at our services page for a more details about our many service applications.
Nationwide Service
Need work further out? That's no problem. We are happy to travel to you, wherever and whenever you need us. Our team has experience with many projects in Seattle, Los Angeles, Chicago, Anchorage, Detroit, Atlanta, and many other locations throughout the United States.